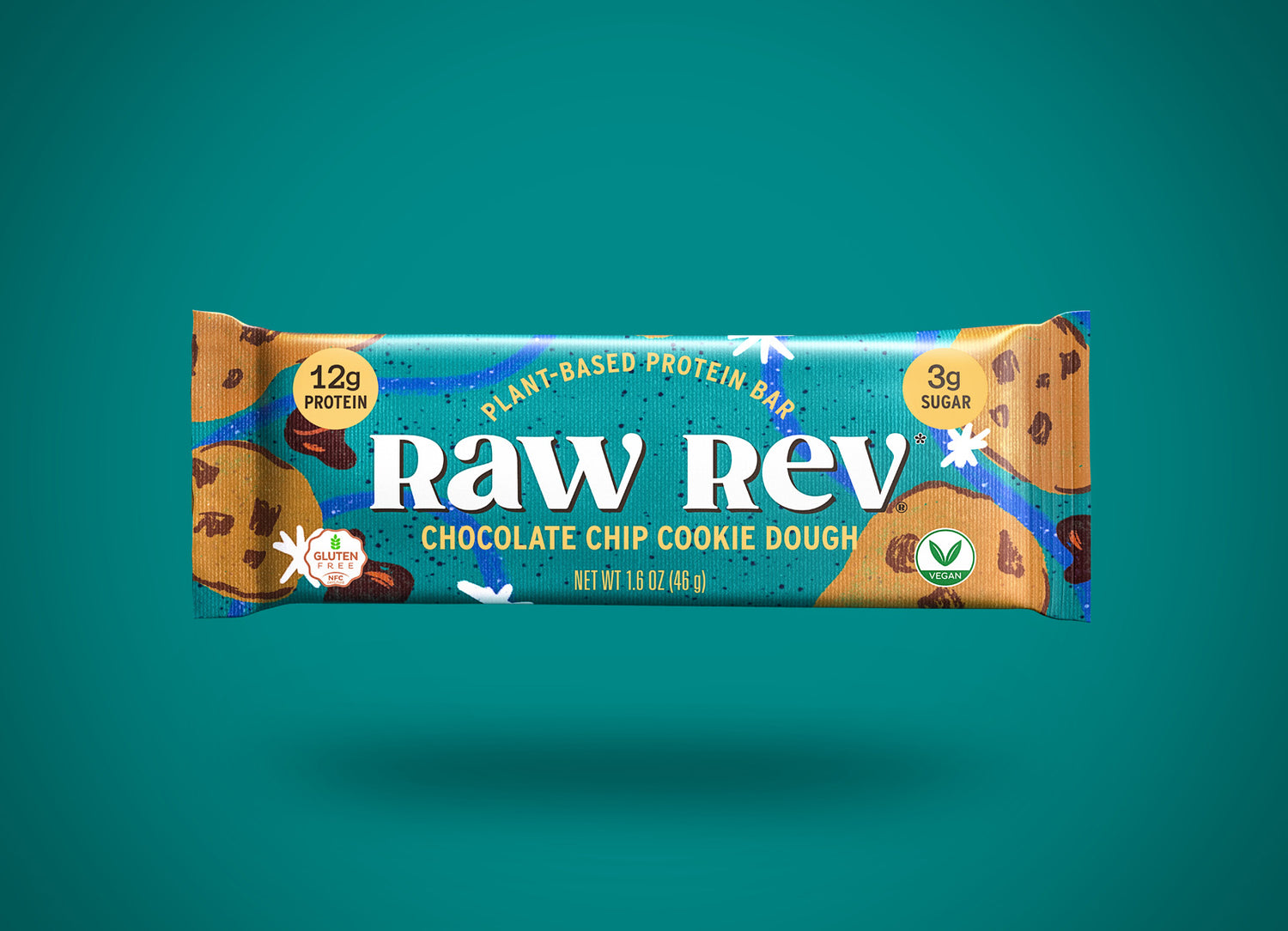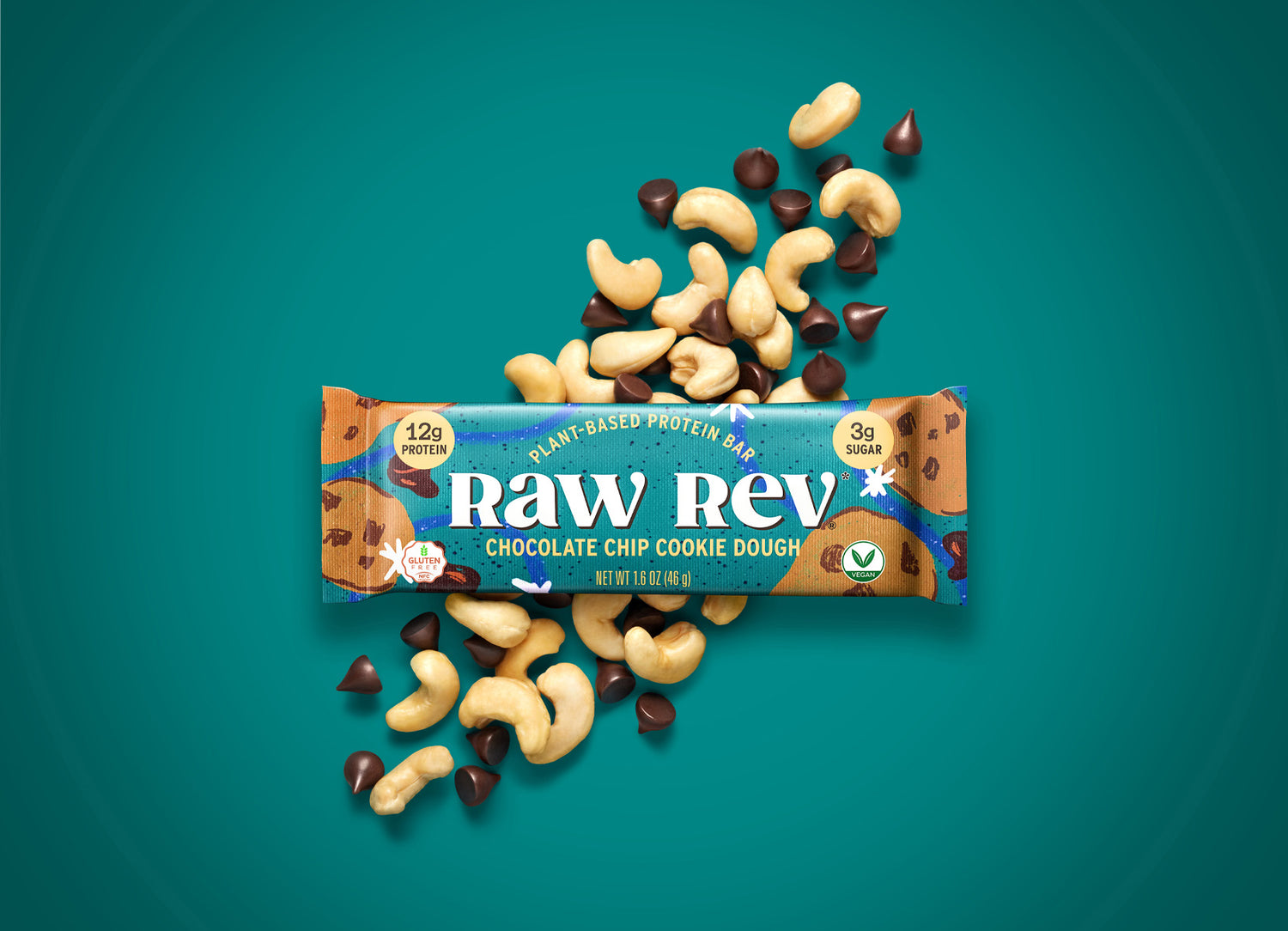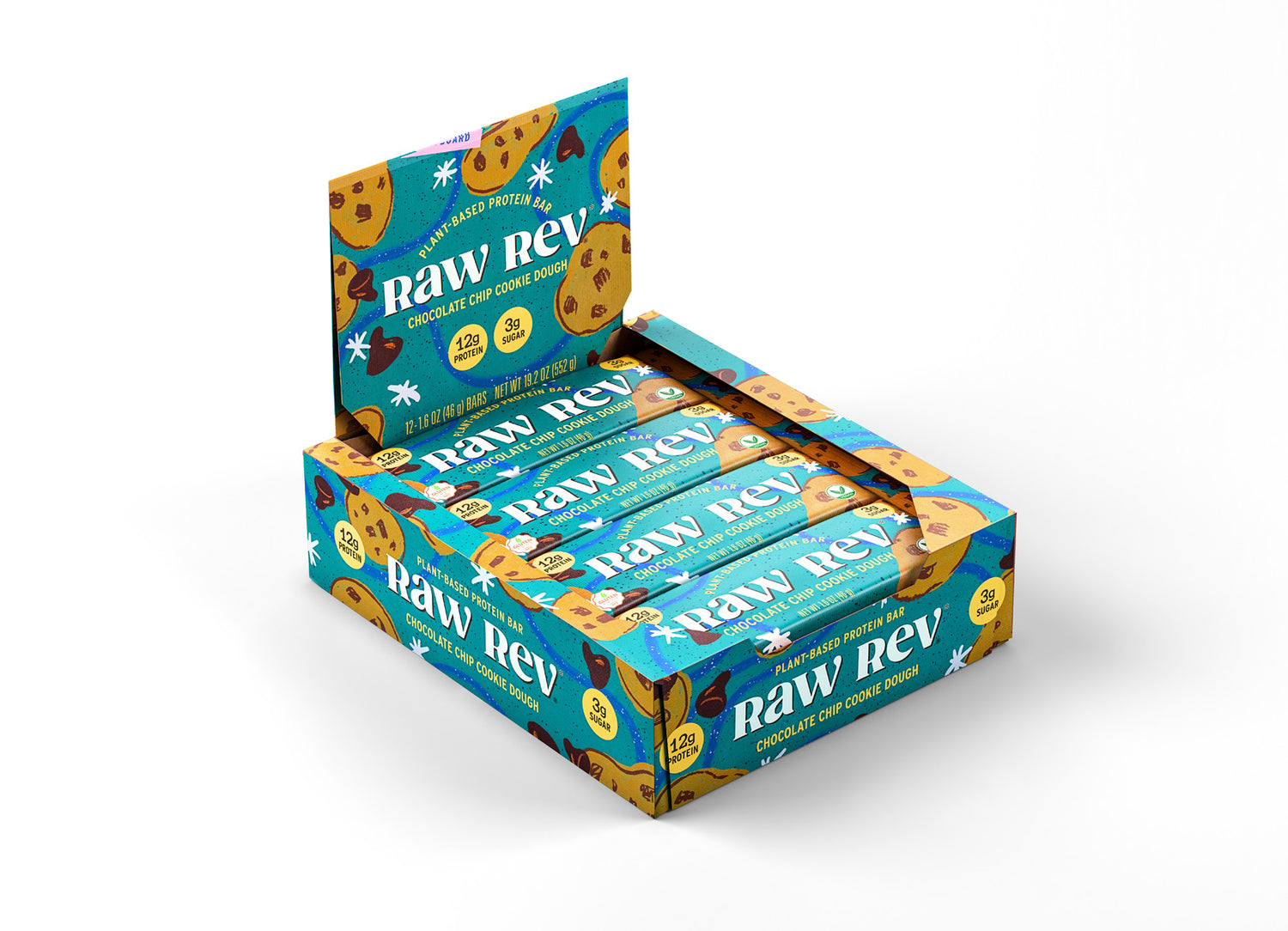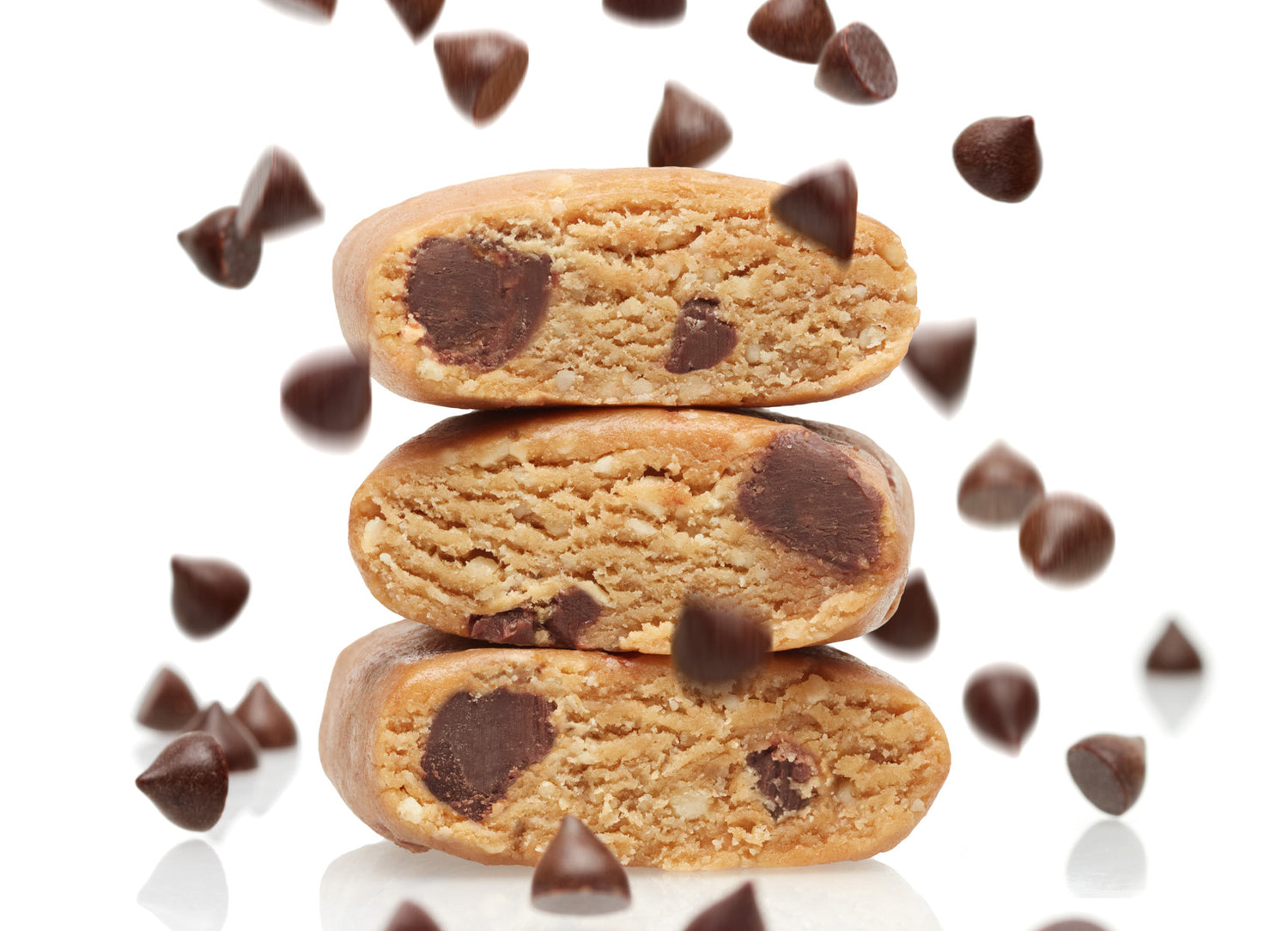 Chocolate Chip Cookie Dough - Vegan Protein Bars
It's just like sneaking a bite of the cookie dough before it goes into the oven! With creamy cashews and melt-in-your-mouth chocolate chips, the Raw Rev Chocolate Chip Cookie Dough bar tastes like magic, not like cardboard.
12 bar box
Get Same Day Delivery
What's Inside
It's just like sneaking a bite of the cookie dough before it goes into the oven! With creamy cashews and melt-in-your-mouth chocolate chips, the Raw Rev Chocolate Chip Cookie Dough bar is plant-based, culinary perfection.
With 12g of plant based protein, only 3g of sugar, and made from Raw Rev's special blend of cashew butter, pea protein, organic brown rice protein, and organic sprouted flax seeds, the Raw Rev Chocolate Chip Cookie Dough bar is melt-in-your-mouth deliciousness. It tastes like magic, not like cardboard!
Created by a mom, nurse, and chef, every Raw Rev bar is vegan, Kosher, Gluten-Free, Non-GMO project verified, Keto friendly, and a Certified Plastic Neutral product. Our commitment to integrity extends beyond our products, as we strive for honesty and transparency in all aspects of our business. We believe in sustainability, the responsibility we hold towards our planet, and that every person deserves nutritious, wholesome snacks that enhance their well-being. Our plant-based protein bars empower you and contribute to a more sustainable world.
Ingredients: cashews, chicory root fiber, soluble tapioca fiber, brown rice protein, pea protein isolate, organic dark chocolate chips (cane sugar, chocolate liquor, cocoa butter, soy lecithin, vanilla extract), sunflower lecithin, vegetable glycerin, flax protein powder, natural flavors, sea salt, pure vanilla extract, mixed tocopherols, sugarcane reb m, monk fruit extract. Not a raw food. Ingredients are heated for food safety.
Read more
The Benefits of Cookie Dough Vegan Protein Bars: A Delicious and Nutritious Choice
Are you a fan of cookie dough and looking for a guilt-free way to enjoy its delectable flavor while staying on track with your health and fitness goals? Look no further than protein cookie dough bars! In this article, we will explore the world of cookie dough protein bars, their many benefits, and why they are worth adding to your snack repertoire.
What Are Chocolate Chip Cookie Dough Protein Bars?
What exactly is a cookie dough protein bar?
Cookie dough protein bars are a type of protein bar that aims to capture the irresistible taste of cookie dough while providing the nutritional benefits of protein. These bars are designed to be a convenient and tasty way to satisfy your sweet tooth cravings for cookie dough without the guilt.
How do they differ from regular protein bars?
Unlike traditional protein bars that often have a generic taste and texture, cookie dough protein bars are crafted to mimic the flavor and texture of real cookie dough. They offer a unique and indulgent experience, making them a favorite among those who crave the sweet, doughy goodness of cookies.
The Nutritional Powerhouse: Protein
How much protein do cookie dough protein bars contain?
Cookie dough protein bars are a great source of protein, typically containing anywhere from 10g protein to 20 grams of protein per bar. This protein content is crucial for various aspects of your health and well-being.
Why is healthy protein important for your diet?
Protein is an essential macronutrient that plays a crucial role in muscle repair, immune function, and overall health. It helps you feel full and satisfied, making it an excellent option for snacking and curbing cravings.
Vegan and Gluten-Free Options
What are the benefits of choosing these options?
Opting for vegan and gluten free chocolate vegan Chip cookie dough protein bars means you can enjoy a tasty treat without worrying about common allergens or dietary restrictions. These bars are typically made with plant-based proteins and alternative flours to accommodate a variety of dietary needs.
A Healthy Snacking Alternative
Why are cookie dough protein bars considered a healthy snack?
Cookie dough protein bars are considered a healthy protein snack for several reasons. They are packed with protein, low in sugar, and often contain healthy fats. Additionally, they offer a satisfying and indulgent taste without the empty calories and sugar overload of traditional cookies.
How do they compare to other popular snacks?
When compared to typical sugary snacks or processed cookies, cookie dough protein bars are a much healthier option. They provide sustained energy, keep you fuller for longer, and can be a valuable part of a balanced diet.
Plant-Based Option: Suitable for Different Dietary Preferences
Can cookie dough protein bars fit into a keto diet?
Yes, there are keto-friendly cookie dough protein bars available. These bars are specifically designed to be low in carbohydrates and high in healthy fats, making them suitable for those following a ketogenic diet.
What about those who prefer plant-based protein?
For individuals who prefer plant-based protein sources, there are plenty of vegan cookie dough protein bars on the market. These bars use protein derived from plants like pea, hemp, or brown rice, ensuring a cruelty-free and environmentally friendly option.
Closing Thoughts: Vegan Cookie Dough Protein Bars for a Healthier You
In conclusion, cookie dough chocolate protein bars offer a delightful combination of taste and nutrition. They are an excellent source of protein, making them a valuable addition to your diet whether you're an athlete looking to support muscle growth or simply seeking a satisfying and protein bars are healthy snack.
So, the next time you're craving the sweet nostalgia of cookie dough, reach for a cookie dough protein bar instead. Your taste buds and your body will thank you for making this delicious and nutritious choice.
About Raw Rev:
Raw Rev was founded in 2004 with 20 years of experience in the food industry and has garnered over 1000+ 5-star reviews across the internet. Raw Rev's products are Gluten-Free, Non-GMO, and 100% Vegan.
Ingredients
Cashew
Cashew
Cashews are low in sugar and rich in fiber, heart-healthy fats, and plant protein. They're also a good source of copper, magnesium, and manganese.
Chocolate Chip
Chocolate Chip
Linked lower blood pressure, and decrease cholesterol levels.
Dark Chocolate
Dark Chocolate
Rich source of fiber, loaded with iron, magnesium, zinc, copper, and other minerals.
Sea Salt
Sea Salt
Mostly composed of sodium chloride,it helps regulate fluid balance and blood pressure in the body
Nutritional Facts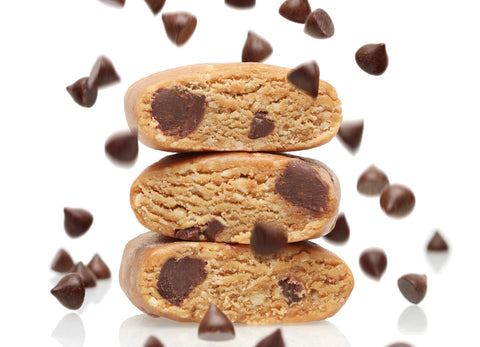 Certifications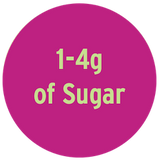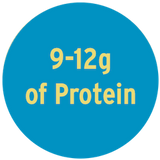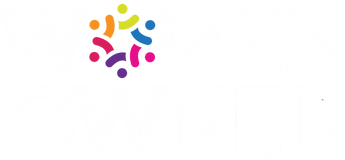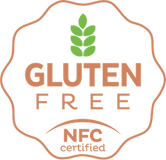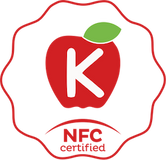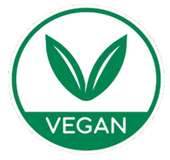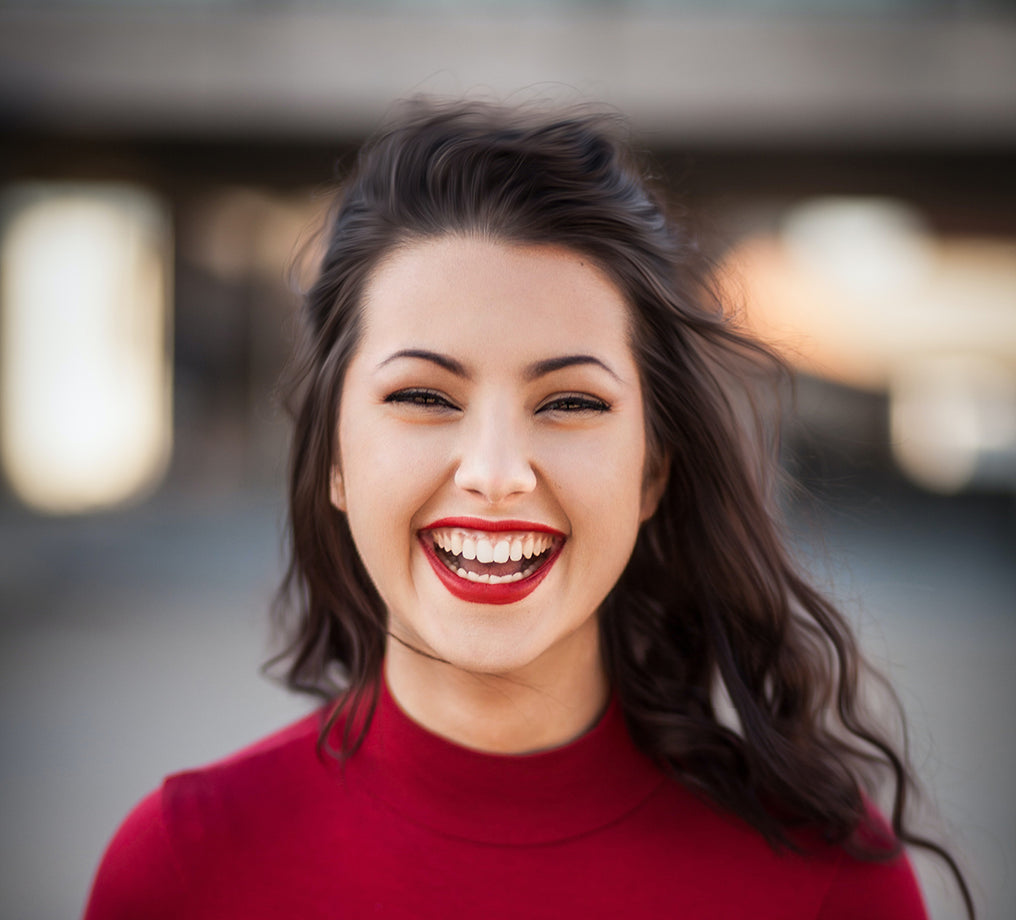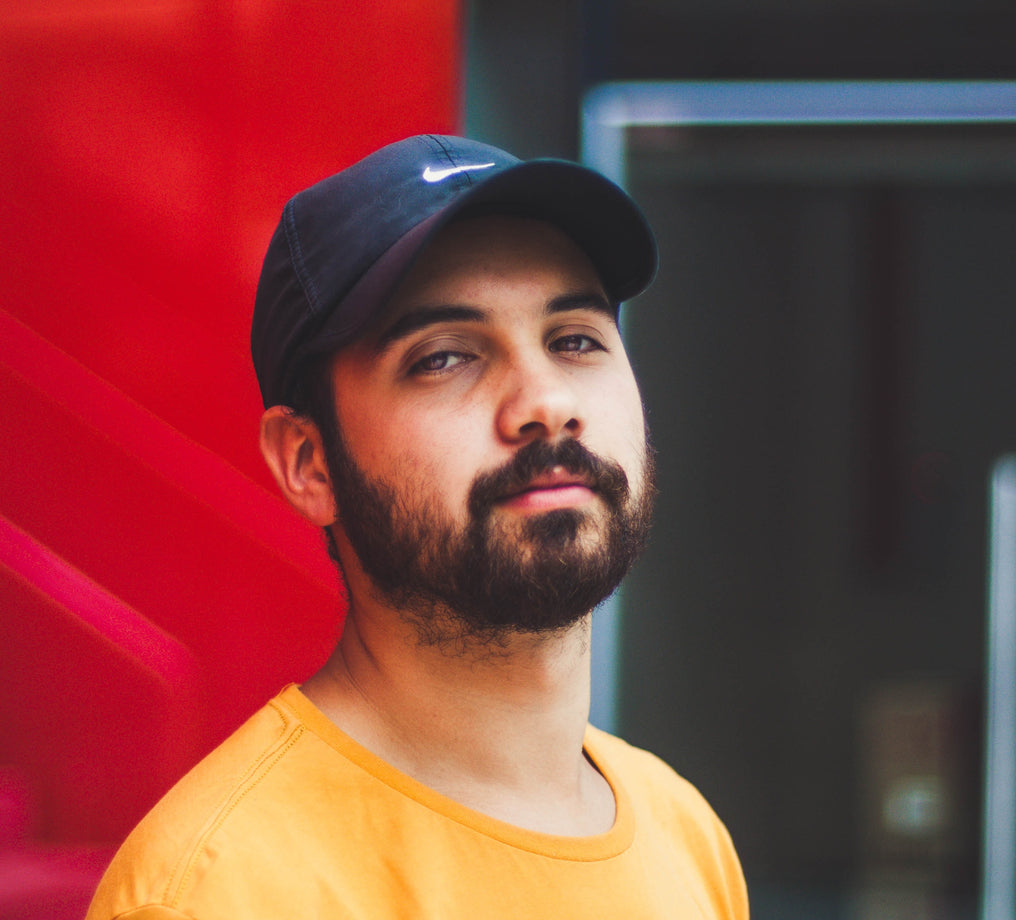 "I love these bars! And eat one every day, have for several years. I don't think I'll ever get tired of them. Great variety!!"
Christy B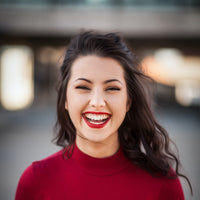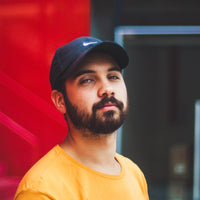 "I absolutely love the cookie dough raw rev bar. But my wife loves the caramel and nuts, which is my second favorite !"
Dennis M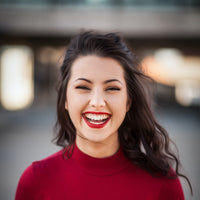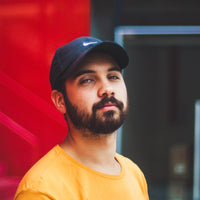 "Absolutely love my Raw Rev bars and am on a subscription with the company so I do not lose a day of having them! Super delicious and very healthy."
Mary C